How To Create a Small-Batch Beauty Routine in 3 Steps
Nowadays we've all heard that successful people have similar routines. Or you've seen a YouTube video about topics like a morning routine or things all girl bosses do.
Today I am here to encourage you to find your own beauty and health routine.
I used to try a new product every time I needed lotion, lipstick or shampoo. I'd end up with drawers full of products that I either hardly touched or didn't even use!
I mean who doesn't love to try new products (ummm beauty box subscription anyone?). However, I don't want you constantly wasting money on new products or adding to any clutter you may have.
I want to skip to the 3 steps.
A few months back, I went through all my cosmetics and threw out two-thirds of what I owned! Haha, yeah major purge and it felt great! We know how clutter can affect the mind. I now have a lighter life, literally and mentally.
I have a beauty routine and use only a few products that I love! Plus, many products take several uses for you to see results. If you stick to a routine, you will see results! I say this from experience.
So why small-batch products and what does it mean?
Small-batch products are made in smaller batches! Haha, shout out to things that mean what they say! They are often handcrafted under one roof with powerful ingredients that speak for themselves.
The ingredients are fresher and more sustainable than your average product. You often know who made your product and receive extra little touches like a handwritten note, chic packaging or a free product!
Basically, you end up having a crush on the company 😍
Before we get into the exciting products, I want to say that I am so hyped for you to try new products to find a routine!
This is all about YOU being empowered and deciding for YOURSELF what works for YOU! We are all beautiful, but we should not all have the same beauty routines (or any routine for that matter).
16 Brands To Check Out
Now that you have an assortment of companies to look through, here is your 3 step process to create your new routine.
Step 1: List the products YOU need
Examples to get you started:
Face - toner, cleanser, oils for oil cleansing method, face scrub, face mask, moisturizer, freshening spray, lip scrub, lip balm, eye serum, eye mask, eye de-puffer, makeup remover
Mouth - toothpaste, tooth polish, oil for oil pulling, whitener
Body - scrub, dry brush, body wash, moisturizer, body butter, body oil, perfume (hopefully with essential oils and not chemicals), deodorant
Hair - mask, treatments, wet & dry shampoo, conditioner, leave-in conditioner, mousse, hair spray, hair oils, scalp oils, styling gel
Makeup - primer, concealer, foundation, highlight, mascara, brow pomade, brow pencil, eyeshadow, setting spray, lipgloss, lipstick
If you are using every product I just listed, you are most likely harming your skin, not helping it. Keep it simple and powerful so that you can do it every day.
Products like masks and scrubs aren't used every day so they will last longer.
To remember: what you apply to your face should also be applied to your neck
Step 2: Fight Excuses
We all love to make excuses for things we know we should do but don't. So here are some empowering excuse fighters (I'm totally motivated to kick down some doors for you right now!):
I don't want to/can't spend money on this. Let me just buy shampoo from Target.
Haha, first of all, I love you. Second, no.
Take advantage of sales, sign up for a promo code, Google a promo code, or check for travel size products.
There are small-batch brands that sell products over $100. I listed brands that are cheaper and just as life-changing!
Since these companies use such powerful ingredients, you don't need to use as much product.
If you think of the chemicals on your skin from basic cosmetics + all the different products you decide to try + the time you waste being unsatisfied = a crapload of unused products, some of which harm your skin and an unhappy or dissatisfied lifestyle.
This is all about self-love and having your ish together. What about finding products that make you look and feel more like the queen that you are?
F*ck routines, Chelsea. I'm a free spirit, and I need to try everything new until I die.
You are my soulmate 😘! I used to think this way about routines. Let's change your mindset towards routines and rename them:
Goddess Groove
Ritual
Morning Addiction
Night Style
Daily Beauty
Run wild with your own ideas 😊
I don't want to buy a whole jar of something and then hate it.
I am beyond proud of you for thinking this! I completely agree with this point. With small-batch brands, just email them for samples if they aren't listed on their website. You can even ask them what product would work best for your skin type, hair, or health issue. You can also see if a local store carries the brand and smell it/try it there.
Step 3: Search around, test and stick with it!
These companies are a few of many so shop around and find what works best for you. Know that not every product you use has to be made fresh from a garden.
Feel free to mix and match with some products you already love!
Also, see if there are any local small-batch beauty companies that you can support. Do I see a beauty ambassador, networking opportunities or free products in your future? 🔮😍 Get it girl!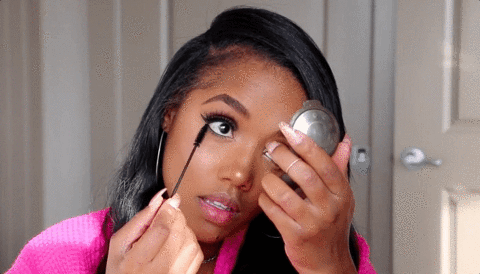 Once you find some great products for a routine, stop searching (reread that) and keep at it! Reread it again!
Is your bathroom cluttered with products? Will you purge your products? What products will you try? Did you rename your routine? Let me know when you find a routine that works for you!
Post a comment or question below and don't hesitate to share this post and help create a cycle of simplicity 😘
& remember to allow your authentic self to empower the women around you